Peace by Pieces

Toronto tubwhacker Jeremy Taggart
Canadian alt-rock vets Our Lady Peace found their key player when drummer Jeremy Taggart joined the band at 17 years old. While the now-accomplished Taggart has virtually grown up in the group, his wide-ranging, intelligent style owes a lot to lessons learned young –– and to keeping an ear pointed to the future.
"My father was a drummer in the Toronto scene in the early '60s," he says, "and his grandfather led the Scottish drum corps in India. There's a lot of drums in the history of the family."
Though his dad gave up playing professionally by the time Jeremy was 4 years old, he and his wife filled the family's house with great music from Coltrane to Shankar to the Beatles and Joe Cocker. Jeremy soaked it all in, and at 14 was eager to try his hands on the tubs. Three years into his drumming life, Jeremy was looking around for jobs in bands in classified ads and met the Our Lady Peace crew, with whom he found an instant kinship; the group almost immediately got signed to a label, started working on their first record, Naveed (1994), and commenced to tour like fiends.
The imminent release of the band's eighth album, Curve, finds Taggart further exploring new ways to establish a signature sound that invariably harkens back to his beloved Keith Moon, John Bonham and Ginger Baker. These explosive rule-breakers rocked Taggart's world, as did his game-changing studies with Toronto drummer Rick Gratton and an immersion in the Patterns drum book series by Gary Chaffee.
"It was pretty cool to learn at an early age about breaking up bar lines, odd note groupings, metric modulations and all that kind of stuff, before I could really groove on the drums," says Taggart. Continually reconceptualizing his craft has led him to studies with Canadian drummers Paul DeLong and "guru" Vito Rezza, the latter whom Vinnie Calauita calls "the world's best kept secret."
Drawing on the wisdom of the masters gives Taggart's playing a depth and maturity in a constant state of evolution. "In the '90s we were playing at least 200 shows a year, and I was just pounding through them all," he says. "When we start as drummers, we act like puppies –– we're so eager to play it so big and bombastic and fast, but the older you get brings a better understanding of what the groove is, and how beneficial it is to be playing in time."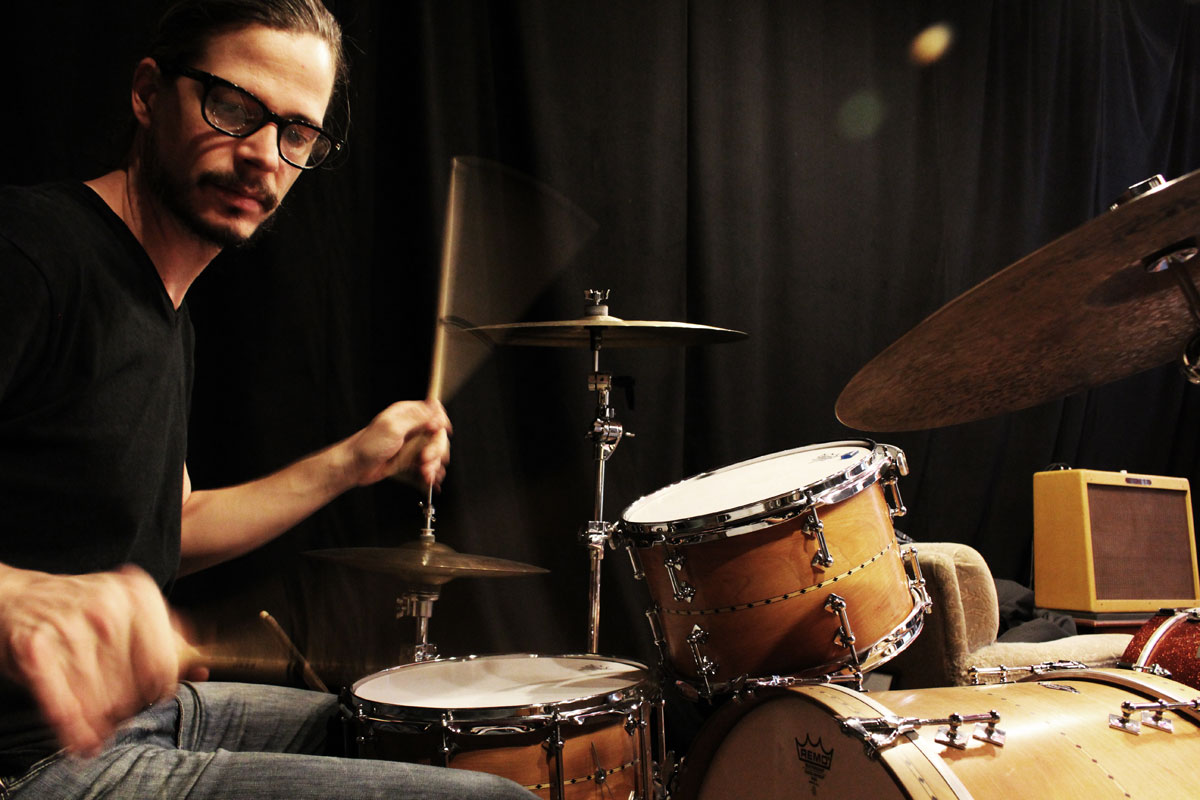 Taggart's Craviotto kit and Istanbul Agop cymbals aid his search for that crucial groove –– that is, when, like his hero Ginger Baker, he's not throwing cluster-note curveballs over the field of time.
"Those are little turnarounds, transitions, expressions and exclamations on grooves; you're trying to bring some excitement to another part of a song –– but that excitement has to exist in that time."
In his practice space Taggart gets a chance to work out ideas largely inspired by his jazz idols.
"I've always had a strong love for jazz and feel like I can express myself comfortably in that kind of time when I'm playing by myself," he says, calling the experience "the flow of the way jazz can be, where everything's happening at the same time.
"For example," he says, "a song like 'Resolution' by Coltrane on A Love Supreme, the way that Elvin Jones is playing, the way he kind of tricks the 3 over 4 idea just to give motion. It's a perfect example of how far you can take things."
He calls his practice sessions exercises in "extreme time."
"But even if I'm playing a 4/4 pattern I like to practice things that make me feel like I suck, because you always practice your faults. I like to do mundane things as well, like I'll play slow single-stroke rolls for 20 minutes –– it's a fine-tuning process –– and I'll do limb-independence work and patterns."
Maintaining and developing his chops aids Taggart in his live work as well, eliminating the need for extensive warm-up before performing, His preparations even affect his choice of drum sticks.
"I used to use a 5B stick and now I use a 7A, a really small stick. Before it was a little more of an issue because I would play louder, but now it's even less of an issue, because we're not playing coming out of the gate."
Taggart likes his Craviottos for live performance and used them for most of the tracks on Curve. John Oreshnick at Angel City Drumworks in Burbank found Taggart a selection of vintage Ludwig and Slingerland drums to mix-n-match for a couple of songs, "for a true character sound," and Pearl Jam's Matt Chamberlain lent him one of his three-ply '70s 26-inch bass drums.
Onstage or off, Taggart uses a round felt beater for his bass drum work, which he plays heels-up for extra kick. He tunes his drums close to wide open, with a little bit of dampening.
"I prefer them to be a little bit on the higher side, but not too high. When they're higher they sound more present and kinda old school; when they're lower they lose a little bit of wood quality."
Taggart's stage kit employs no electronic triggers or pads, thank you, and, refreshingly, he likes to hear the other players in his monitors. "If I don't have the drums loud in the mix then it's pretty hard for them to get in the way of anything," he says.
Taggart feels there was a new sonic feel for the drums on Curve, not tracked as "big" as they were in the past, with Taggart playing more consistently to the room to find more interesting sounds. As always, he laid down click-guided tracks both alone in isolated areas of the studio as well as in the main room together with the band.
"Sometimes a song can have such a great feel that you know what you're going to do; other times it needs to have a groove first and then you put stuff on top. I prefer that we're all playing together, because there's more energy in it."
It's been a heady 20 years for Our Lady Peace, and a master class in drums for Jeremy Taggart. And, he says, he's just getting started.
"I was able to experience music from a very cool perspective. Being 20 years old and playing with Van Halen on their 1995 tour was amazing, to sit behind the drums every night and watch Alex play. And opening for Page & Plant, that was amazing, too –– the late Michael Lee was an incredible drummer."
Maybe best of all was Taggart's friendship with Elvin Jones, who'd guested on the band's Happiness...Is Not a Fish That You Can Catch album.
"And he gave me one of his ride cymbals! It was the ultimate, getting to know that kind of a genius. He's a classic example of the possibility there is on this instrument."