Matthew Shipp Trio | The Conduct of Jazz
(Thirsty Ear)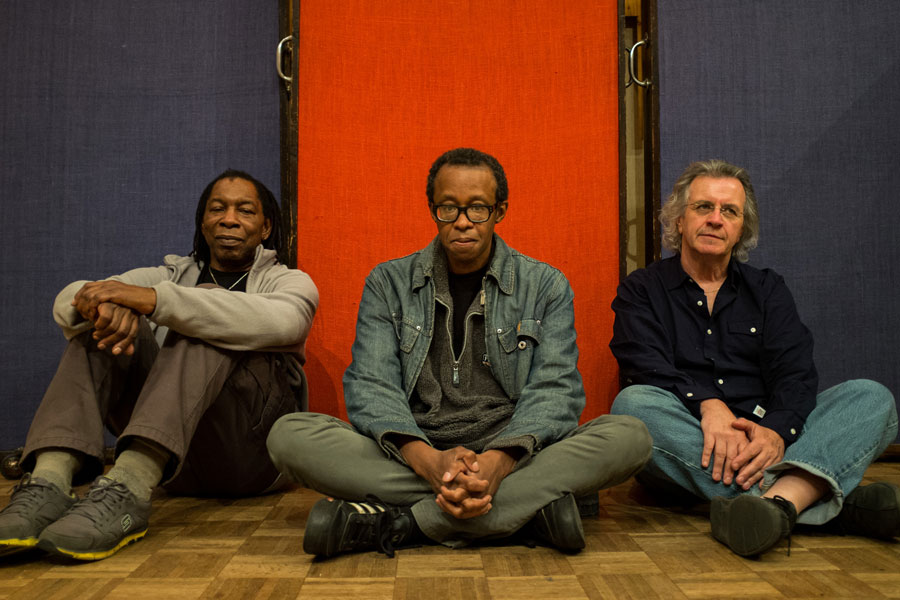 The pianist supreme known as Matthew Shipp satellites just outside that artistic sphere where music that gets called "jazz" isn't jazz and/or is just plain tedious and tame. Matthew Shipp is never boring, and is only predictable in that you always know the guy's going to turn your musical head in wicked novel positions. The nicely snotty and mildly inflammatory title of this fascinating new record by Shipp and cohorts bassist Michael Bisio and drummer Newman Taylor Baker just figures, too: conduct as in conduction or the way the best jazz distributes pulse and current among its players and presumably within the brains of ye close, careful listeners. Mainly, though, we're talking bad conduct here, that is, jazz not putting on a bow tie and behaving itself.
I've got a bad habit of projecting a lot on Shipp, and that's because he and his music have charisma, and of course charisma invites projection. I've talked to Shipp a couple of times and tried to pin on him that maybe he ought not align himself with jazz at all anymore, 'cause what he does is way beyond (my own) restrictions and clichés of jazz formula and canon and all that. In other words, I've got a bad attitude about bow ties and bass solos and giving the drummer some and all that calcified corn.
Well, Shipp answered me by saying two sensible things: One needs to call it jazz if one want to get gigs at jazz festivals and at jazz clubs and if you want to pull in parties who're nominally into anything that gets called jazz. He reminded me too that jazz is a musical form whose main reason for being has always been about breaking rules, so yeah, in that sense he is most decidedly a jazz musician.
Anyway: This album feels short, just whizzes by in seven tracks of pure listening, head-bobbing, toe-tapping pleasure. It's probing stuff, as you'd expect, just chock-fulla ideas, curiosity and vigor –– it's full of life. Shipp's bandmates offer more than just support for the pianist's fearsome flights, they sound like they all popped out of the same womb, connected within this music in amazingly organic and intuitive understanding of one another's hearts and minds. The first track, "Instinctive Touch," works a lopsided piano figure up and down, bass bouncing off it as drums skitter and swish, and you witness its development in the fullness of real time. Shipp turns the rhomboid figure inside out, upside down, and all sorts of shapes and possibilities tumble out amid a weird bluesy abstraction that will, in other pieces, flirt with dark romanticism.
As with many of Shipp's pieces, "Instinctive Touch" appears to be a hybrid of jazz improvisation with spontaneous composition, i.e., it's less a bunch of solos layed on top of a series of chords, and more of a mutating shape and scope wherein for the most part everyone solos and no one really solos –– it's about counterpoint, and how three parts combined create a fourth entity. As with most of the album's cuts, the restricted timbres of the trio's simple instrumentation aid the perception that these spontaneous compositions are not like viewing one object under different lights; nope, picture if you will a series of different objects viewed under the same light.
In taking on "jazz" itself, the album taunts with difference while generously doling out what jazzheads most likely want. Matthew Shipp has a special way of making the most exploratory, heady kinds of things feel persuasive and inviting, almost in spite of his own tendency toward the obscure and forboding. The title track's upbeat, sprightly theme shows how Shipp can bop and swing with ease and joy, but, better, with a thirst for almost microbial metamorphosis and, best of all, a steely sense of direction. "Ball in Space," "Primary Form" and "Blue Abyss" sound like new modern jazz standards. "Stream of Light" is Shipp's solo turn of contrapuntal two-hands-in-different-directions, and its seemingly endless variations must've felt to Shipp like finding the most multi-faceted cut diamond on Earth. Closer "The Bridge Across" is a 12-minute-plus opus that brings the band back in to further excavate mines, spelunker in caves and take the odd mad dash up unknown alleyways.
–– John Payne