<![if !vml]>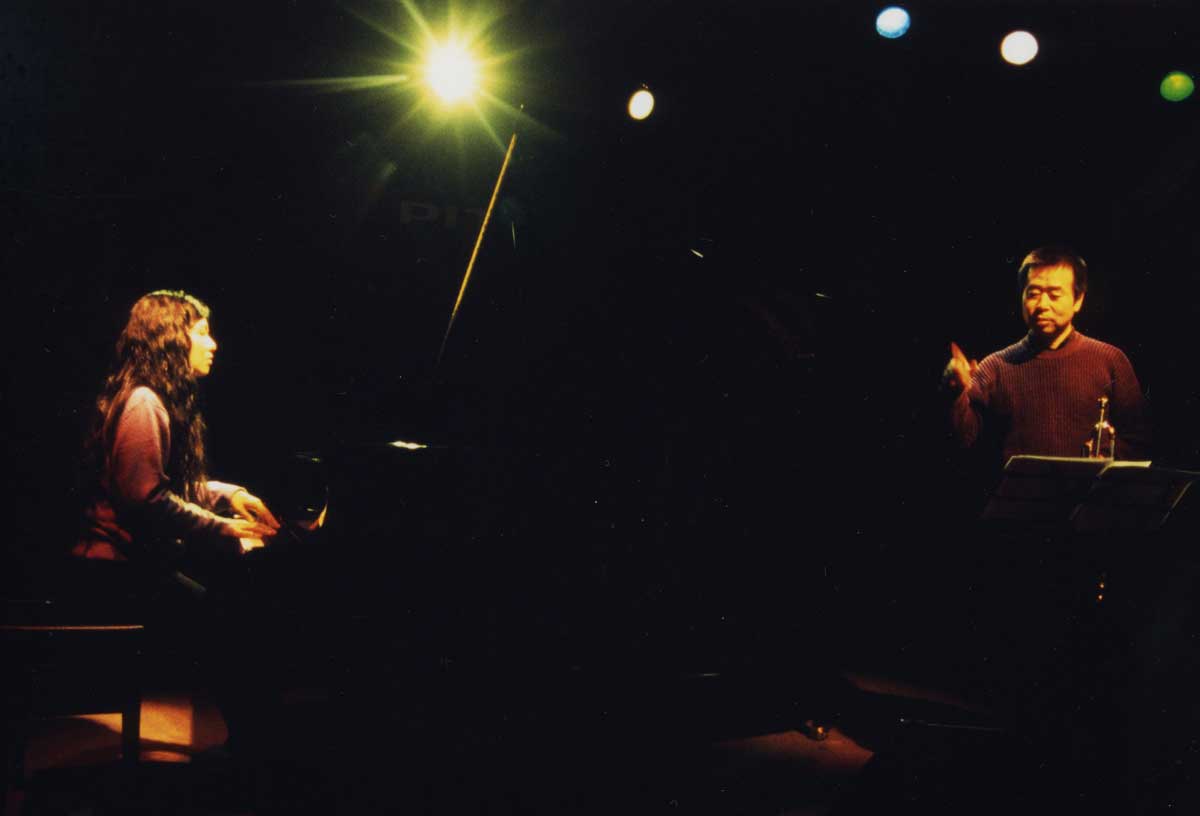 Two for Truth







Jazz smashers Satoko Fujii and Natsuki Tamura


Satoko Fujii Orchestra New York / Shiki (Libra)
Gato Libre / DuDu (Libra)
At 36 or so minutes long, the title track of Satoko FujiiÕs new Shiki album starts out verrrry slowly, with loooong, drawn-out horn lines, intermittent cymbals, one bass note; there are little background brass squeaks over more stretched horn lines; it builds, just a little bit, slides back to spareness, hesitancy. This opening theme of unison horn lines, hinted at, wisps back in small snatches, only to drift apart again in improvised solo flurries of horn, drums, skittery bassÉleaves float gently to the ground.
Fujii structured ŅShikiÓ as a small set of written parts to be reacted to and mutated by the spontaneous tones and lines emanating from her players. ŅShikiÓ is, she says, partly about the weather; the intermittent themes are languid and cool, acting like a stabilizing force. In this piece you might hear a rain of notes / then fluffy clouds of notes / drums splash as the wind pushes the waves onto the rocks / squawking saxes will always sound like angry drivers. At certain points it speeds up, builds fire/density: like a storm / crows caw / dogs bark / the themes return / a unison urgency of horns / fiery drums poke and prod / horns interlock in battling crow-caws / birds of fireÉ
Given the minimally varied and trad ŅjazzÓ instrumentation (brass and drums, no electronics), the pieces on the album (also including ŅGen HimmelÓ and the chant-laden ŅBi Ga Do GaÓ) feel like a series of different objects viewed under the same light, which gives the pieces the coloring of unity, like DebussyÕs constantly evolving pieces do. FujiiÕs very modern music is not painted in abstraction; rather, these are combinations of realities such as perhaps have never been heard before. Incorporating and melting down numerous tonalities and half-lines of a dozen different historical styles ethnic, classical, folk, pop and whatever, it is all of these and none of the above.
Of course, as itÕs being played by a bunch of heavies on the New York jazz scene, whether this impressionistic orchestral music is really jazz is a question that ŠŠ ugh, to hell with that. The point is, itÕs music free of clichˇs. If you want a reference point, you might think Carla Bley and Michael MantlerÕs Jazz Composers Orchestra stuff of the early Ō70s.
Fortuitously, Fujii has found a soul mate in her husband, the new-/non-genre trumpeter/composer Natsuki Tamura, who also has a new album, DuDu, out with his long-running, well, neo-neo-jazz/world/folk group Gato Libre; itÕs a fascinating set of avant-ethnological forgeries that spin further and further away from the jazz sun, intoÉWell, Fujii calls herself a jazz musician; Tamura says he is Ņnot jazz.Ó I talked to both recently about all this sort of musical hair-splitting and various other things; hereÕs what it sounded like:


BLUEFAT: Shiki is outstanding. What is the overall concept of the album, if any?
SATOKO FUJII: IÕve made many CDs with my large ensemble, and every time, I want to try something new, otherwise there is no reason to make another CD. So with Shiki, I wanted to express something beyond. For example, a picture larger than a canvas, beyond some line or border. Or just, you know, beyond something. ThatÕs the basic imagination I got, very fast.


What did you have in mind for the long title piece? How did you see its shape? What would it represent?


Usually I donÕt make a piece with sudden imagination. I just write music without any imagination. But this time, with ŅShiki,Ó I got some image which is like seasons or sudden stages in the life. Shiki means four seasons in Japanese, and itÕs just like different periods or different stages in the life. With that piece I got that kind of imagination at first, and I wanted to express it with music.


How much is composed and how much improvised in this piece?


This piece has 14 solo sections, which present all the musicians except me. That means I of course didnÕt write anything for the solo players ŠŠ thatÕs improvisation. So I would say 60 percent of the piece is written. But itÕs kind of difficult to say, because I donÕt know how long the solo player would play. So, with the CD I would say 60 percent was written and 40 percent was improvised, but in the concert versions it sometimes could be like 80 percent improvised. Yeah, thatÕs very flexible.


What were your instructions to your players?


Well, I do not have any instructions. I mean, because I know them very well, and I just like the idea that I let them play. IÕm not a dictator, and I would like my musicians to play whatever they want, and I know that makes the music alive.


Is the piece heard as is, or was there any editing done?


You mean at the studio? Not really. Actually, that was very easy. [laughs] I mean, it was probably the easiest recording with the large ensemble. We had, I think, two takes, but thatÕs it. And no edit.


IÕve heard you play in so many formats, and IÕm curious to know where you come from as a musician. What is your training?


I started studying classical piano when I was four years old, that was the first training I got. Then, from 15 years old, I started studying harmony and counterpoint, classical music, then also I studied beat conduction ŠŠ conducting ŠŠ and then I switched to jazz.
At first, I really wanted to just improvise, so I even stopped playing piano, because after classical training I just couldnÕt improvise with piano, so I had to be away from piano for a while. Then I found I liked jazz pretty much, you know. So I went back to piano. I studied jazz piano, and then I went to Berklee College of Music where I studied with, like, Herb Pomeroy and Bill Pierce. And I studied arrangement. After Berklee I went to New England Conservatory where I studied with George Russell and other great musicians.


George Russell was such an advanced musical thinker. You must have studied RussellÕs Lydian Chromatic system of tonal arrangement.


ItÕs a very interesting concept. I have to say I got a big influence, and not just musically. ItÕs more like a concept.


I wonder if IÕve ever fully understood it. Can you explain how it works?


Well, itÕs, you knowÉeventually that concept accepts anything [laughs], and thatÕs kind of the idea, to understand the universe. With that kind of concept, the way to think of music is just like gravity. So, for example, in the Lydian Chromatic context, this note and the next note, how far apart they are and which has more power is thought of in terms of gravity. That kind of stuff.
ItÕs kind of difficult to explain [laughs], but itÕs just the study about the relationship with some notes and other notes.


You get the most fantastic results from that way of musical scheming; I think of the Norwegian guitarist/composer Terje Rypdal, who studied with George Russell as well. There are distant similarities with your music and his ŠŠ the harmonic openness, how it can embrace so much and make it all work together.
What about your early musical interests? Along with classical music and jazz, were you a fan of rock and pop music?


Oh, of course. As a teenager I listened to a lot of Top 40 stuff, pop music and rock; I liked Janis Joplin and the Allman Brothers Band. And I still like pop music; I like melody, beats, I like anything like that.


Do you play other instruments?


Uhhhh, well, unfortunately, not really.


Do you have any interest in electronic keyboards or electronics and synthesizers?


I do. You know [jazz saxophonist] Larry Ochs? Yeah, I played synthesizers in his band. And I also played synthesizer in NatsukiÕs band. I donÕt know anything about synthesizers [laughs], so with that way I actually have big fun playing it, you know?


The less you know about synths the better, I think.


Yeah!


Which Japanese musicians might have influenced your composing?


I have to say my classical piano teacher, who was also a great composer. His name is Koji Taku, and he actually did many films. He was a classical player but he also loved playing jazz, so I got a big influence from him. You know Takemitsu? Well, Takemitsu studied with my teacher Koji Taku.


Did Takemitsu make an impact as well?


Well, I of course like his compositions, but for me, like, Charles Ives is more interesting.

Massive blocks of sound.


Yeah! And very dynamic. Takemitsu is very sensitive, sometimes a little too much for me.


I assume that the work of Carla Bley was of interest to you.


Yeah, yeah, of course I loved her compositions. I studied with Paul Bley, and in his lessons he talked about Carla sometimes. SheÕs a great composer and also sheÕs a great piano player. SheÕs not like, ŅIÕm playing playing playing pianoÓ; itÕs more like she knows some good stuff that she needs to play.


You have worked in so many different musical ways, from free jazz to avant-rock to new-music chamber works. I wonder if the term jazz bothers you at all with regard to your own music. Is it confining? Or do you think of yourself primarily as a jazz composer/player?


I have to say that up till five years ago I didnÕt like that I was called a jazz musician. Then I played with, like, rock musicians sometimes, and I realized myself, ŅIÕm a jazz musician.Ó And I began to love being a jazz musician.
And actually last month I was playing at the Vancouver Jazz Festival, and after the concert, when I introduced my band, I told the audience, ŅWe carry the spirit of jazz, so I think we play mainstream jazz.Ó And I donÕt know [laughs], but the audience laughed a lot.


What is your plan now? What are you working on?


IÕm planning to write some new music for my big band, for Tokyo and also for New York, in this month. And IÕm planning to have Kaze touring in Japan this fall, and IÕm having them play with my Tokyo orchestra, and recording some new music with them. So the orchestra will be 17 people, all together.


ThatÕs going to be very heavy.


Yeah, IÕm very excited about that. And also hopefully I can have another recording session with my New York orchestra in January 2015. I need to write some music for that.


YouÕre very prolific. You like to stay busy, donÕt you?


Whah, yeah! [laughs] I think IÕm a workaholic.


A few words from Natsuki Tamura:


You have recorded with more than 25 different ensembles, and now on DuDu you work again with Gato Libre. This is a bit of an unusual instrumental lineup that includes accordion, and now a trombonist in place of the late bassist Norikatsu Koreyasu. With the addition of accordion, you emphasize a different kind of music, something that strays far from jazz-related realms.
What is the idea behind Gato Libre? How would you describe this music?


NATSUKI TAMURA: I think I donÕt mind jazz. I just follow my feeling. I would like to carry the feeling that I had with the former Gato Libre. And I wanted to present a new player in this context.


Do you feel an allegiance to jazz? Is it still a primary inspiration for you?


Not really. [laughs] Actually, especially with Gato Libre, I get more influence from folk music.


What kinds of folk music does this music draw from?


Including any folk music from Japan or, for example, from Africa, or wherever. ItÕs not just a folk ŅstyleÓ IÕm interested in; this is more like peopleÕs music, something very, very simple which is like peopleÕs song.


For more about these two wholly original musicians, check out http://www.bluefat.com/1307/Satoko_Fujii.htm.
Check the Libra Records site at http://www.librarecords.com/index_e.html
ŠŠ John Payne