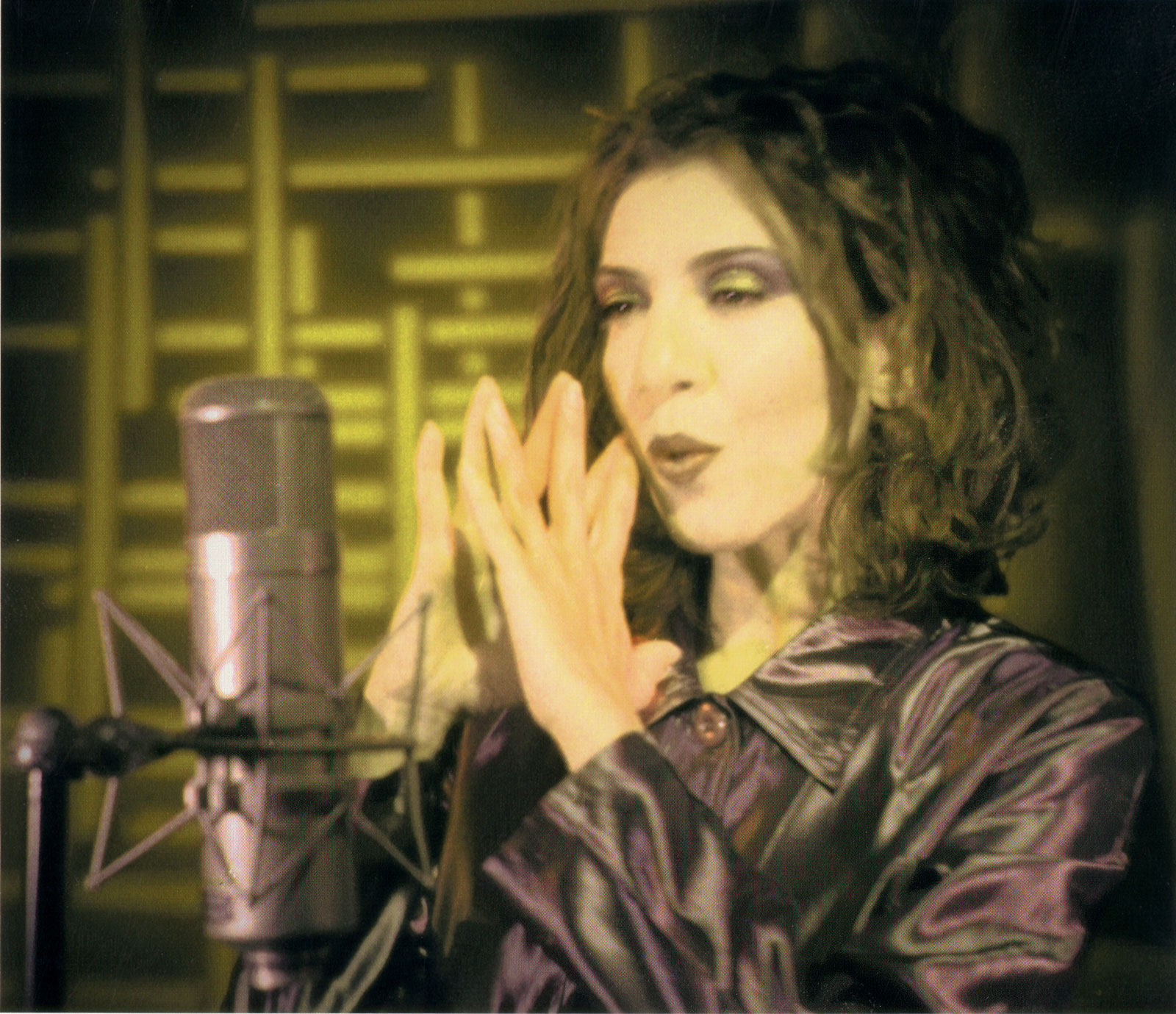 <![endif]>
Sussan Deyhim and the Conundrum of Connection
By Percy Howard


I'm driving to meet with Sussan Deyhim in the spacious, beautifully appointed home she shares with composer Richard Horowitz. The climb up Mulholland Drive is one I always enjoy, the lights of the valley and the silence layering below the higher you go. Los Angeles is a city of layers. Barriers of sound, race, class, water and concrete palpable, always present. These barriers exist in other cities, but have an immediacy in L.A. that is definitive. Higher I climb, and finally arrive after the rental car's cheap navigation conspires to send me in circles for a bit.
We sit in Sussan's expansive, sunlit studio space, listening to mixes of her (then in progress, but now recently released) work City of Leaves. We have been talking for the better part of an hour about what artists always talk about: communication, relevance, clarity, personalities, the industry. All of this is discussed in a particular language made of equal parts passionate and animated love for the work, insider gossip and analysis, and longing for the expansion of aesthetic contexts. At one point during the exchange she lifts her lithe brown frame from the studio chair and heads across the room to retrieve a CD, momentarily tripping on an offending audio cable plugged into a microphone. The way she catches herself, in an effortless gathering up, a graceful physical salvaging with no flailing of limbs…this sprezzatura consistently shows up in her music.
Deyhim is an Iranian composer, singer, performance artist and activist who has collaborated with, among others, Bobby McFerrin, Bill Laswell, Ornette Coleman, Jerry Garcia, Talvin Singh, Adrian Sherwood, The Blue Man Group and visual artists Shirin Neshat and Sophie Calle. The collaborations have been far-reaching, astoundingly creative, and organic in scope. These partnerships have not been sideshows of commercial opportunism, no matter the stature of the collaborator in question. Deyhim was recently approached by U2 with a request to use her composition "Beshno Az Ney/Windfall" as the opening musical interlude preceding "Sunday Bloody Sunday" on their recent tour. The request was made because the composition is a moving, timely soundtrack to the tensions of revolution and oppression that are sweeping Iran and the rest of the Middle East. A core expression of Deyhim's work is a bittersweet mixture of passion, pain, triumph and anger that helps take the listener into a place at once transcendent and evocative of the bonds that tie us together, conscious and unconscious.
Our ongoing conversations have revealed this multifaceted artist to be much more than an evangelist for peace and justice. Deyhim is a complicated mixture of artistic apologist, pop chanteuse, lovely curmudgeon and self-acknowledged "ghost" who has to work very hard to maintain her social connections and not reside only in a warm cocoon of creativity. If you lay the essential elements of her working method and output side by side in comparison, they are resonant with the elements of the best in pop, a vehicle that she has visited more and more as of late, as evidenced by songs such as "While You Are on Your Way," and her cover of Marvin Gaye's "Trouble Man" on her eponymous EP.
Sussan and I became acquainted because we are both people that have been drawn into the magnetic orbit of Bill Laswell's world. I first became exposed to her work in 1996 while recording with Laswell in his (beloved and missed) Greenpoint Studios. Her music was playing incidentally in the studio one morning, and I was struck by the depth and gravity of it. I had not been aware of the fact that she was a key performer in Peter Gabriel's soundtrack to The Last Temptation of Christ, which in fact was my introduction to her work. Like many others, I initially put her in a much narrower category than was truthful, because of the strong Middle Eastern influences of her music with Richard Horowitz on the album Desert Equations and Majoun.
Including her new album City of Leaves, Sussan has released eight CDs on her own label, Venus Rising Records. The new recording is a far-ranging affair, featuring collaborations with familiar associates Bill Laswell and DJ Spooky and others. Anyone who wants to pigeonhole Sussan Deyhim will not be able to after listening to this sumptuously melodic work.
Deyhim's musical journey began in earnest in NYC in the early '80s, when she met composer Richard Horowitz, who has since become her long-time co-conspirator, life-partner and producer. At the time she was transitioning from being a dancer in Maurice Béjart's Ballet Company in Europe to becoming a 24/7 vocalist and composer.
"When Richard and I met, I was extremely tough and sophisticated, maybe a bit full of myself," says Deyhim. "Richard showed up with his briefcase and smart-looking glasses, ney flutes and Moroccan baboush, and I was like, Who the hell is this?"
The relationship turned into a true Third Mind experience, the duo creating work that is an intersection of compatible, non-competing visions that exists to this day. Deyhim describes the relationship as being "like a marriage without all the hang-ups." Deyhim and Horowitz have lived in Los Angeles for the past five years, and while she initially possessed the Left Coast aversion of many New York artists, she has come to appreciate the sun, a rhythmic ease of life. She has made a life here, with close and supportive friends, and an artistic community and structure that sustains her.
During the course of our discussion the phone rings at least three times, each time being the PR rep working with Deyhim on her latest release. The tone of the exchanges between Sussan and said PR person is a mixture of frustration and appreciation. It is expressive of the hassle factor that is a very serious part of being a musician taking control of his or her business. The worst day controlling her career is quite preferable to being trapped in a deal with a label. Deyhim has, like many artists, seen very little financial return from the major-label releases she put out on Sony Classical and Crammed. For the past five years Deyhim has released work on her own label, and has concentrated on live performances that are often large-scale and involving multimedia, not unlike Diamanda Galás, to whom she is often compared.
The conversation shifts from business to artistic motivation. As we drink strong coffee, Deyhim's animated earthiness comes to the fore, and she tells me that her main interest is to communicate deeply with an audience, and not simply preach to the converted.
"I want to contextualize, and not just recycle. I want to do things for people that don't know what I do. I'm no longer interested in only playing for 1,000 super-intelligent people in a hall. What's the point?" In that regard, being categorized as a "world music" artist is a bit of an obstacle, especially since the term has come to refer to any musician who is not white and who utilizes any ethnically identified music in their work. Deyhim could be categorized this way, but it would be a simplistic formula to apply to what she does and with whom she does it.
We talk more about the necessity of craft underlying the work of any artist.
"I can't stand schools…telling musicians how things must be," she says with vehemence. "Rigorous academic training as a dancer informed this perspective. When I put aside the academic training and just danced, I became the dancer I wanted to be. I received training in voice because you need a technique, but I will not be shackled by theory."
Deyhim tells of the dynamic and eclectic aesthetic environment of Iran in the '70s and '80s, an environment in which ethnic music was appreciated and performed alongside Cage, Stockhausen and others. She is dismissive of "half-assed middle men" who are "always defining aesthetics for others." When I point out that her reputation is that of a scathingly serious artist, she laughingly agrees, calling herself a "standup tragic."
We both share a wariness of the myopic fervor of musical traditionalists, the Wynton M's of the world who assert that there is a definitive limit on the presentation of a style or form. That's a wariness, not disrespect: Deyhim speaks of how glad she is that a black man is in the position at Lincoln Center that Marsalis occupies, and fleshes out the conundrum of traditionalism.
"Traditionalists can make you hate tradition, but there can also be too much in the other direction" –– referring to the fact that there's a lot of really bad fusions of styles and aimless experimentation that ultimately does not serve the cultural form well. "Play Nusrat Fateh Ali Kahn in the club and crank it as it is! People like me, like Talvin [Singh], we come from the cultures [that are exploited in certain fusions], we know what they are about." The theme of the artist taking responsibility for aesthetic clarity and thematic connectedness is a key construct for her.
Deyhim has been over-identified with the avant-garde in the past, and sees the designation as a potential trap, because it's an insider aesthetic, self-limiting by definition and generally not a vehicle of deep communication. Yet some of the more communicative work in which she is currently engaged could be disregarded as being avant-garde by some lacking the musical context to appreciate the inherent synergies involved. One example of this is an idea for a mash-up of Miles Davis' Sketches of Spain with a '60s Iranian tune. Two other intriguing projects are a series of jazz covers with composer/producer John Beasley, and a recent collaboration with Joe Jackson on The Ellington Album, on which Deyhim sings "Caravan" in Farsi. She is also seeking support to produce and perform an operatic song-cycle as a small, one-woman show inspired by the work of Iranian poet Forough Farrokhzad. The production would be a multimedia event with film and projections.
While Deyhim has put some distance between herself and the myopic world of the avant-garde, she possesses strong opinions about the philosophical methodologies of certain artistic schools. Individualism that is devoid of craft is not appealing to her. And virtuosity for virtuosity's sake? Looking down at a fixed point at the ground with a quizzical look on her face, as if she's studying a small, hidden world no one else can see, she says, "Virtuosity…having more money and getting younger?…Youth for what, money for what? Virtuosity…You might be fine with five notes. It's all volume or speed. Pollack vomiting on his canvas, radicalism as a process of eating itself, post-Sonic Youth indie rock –– let me out of here!"
Sussan Deyhim's art is not disconnected from her life. The impact of the struggles of Iran are manifest in much of her recent work, and she is often asked to speak to the situation in her native country. She describes the blatantly hostile stance in Iran toward artists and the intelligentsia. She says that Ayatollah Khamenei is "making war on the best part of the aristocracy," those with power, land, resources, meaningful connections with the West, people who have the potential to remake Iran into a republic that would not exclude the dispossessed but who recognize the necessity for infrastructure and order. She calls it "the most motherfuckin' situation ever." Her song "Neda's Eyes" is a moving ode to the young woman who became a profoundly vivid symbol of the struggles of a nation.
We end our conversation, and Sussan asks me to listen critically to alternate mixes from her recently released album City of Leaves. I offer opinions about song order, levels, mixes, whether or not certain tracks work for me. The album is a very strong work, accessible to anyone with a love of rhythm, vocal suppleness, lyrical beauty and continuity; to anyone who can appreciate the work of an artist who can distill moments of beauty into universal experience; to anyone who loves music.

Singer/producer/psychotherapist/poet Percy Howard heads up The Meridiem Project, which has included collaborations with Bill Laswell, Vernon Reid, Buckethead, Charles Hayward, Fred Frith, Jarboe, Happy Rhodes, Trey Gunn, Robert Rich and Jill Tracy, among others. Three albums have been released under the Meridiem banner since 1998: Meridiem, Incidental Seductions (both on Materiali Sonori), and the recent A Pleasant Fiction (Voiceprint/Pangea).