Not To Set You Free

Liars on truth and its consequences




Liars / Sisterworld (Mute)





"There's this quote I sent to Angus. It's from Fassbinder, where he was trying to show these characters in a darker place, that that is their utopia no matter how poor it may be, that it's important that he recognizes they've found a place to be, where they thrive, and are accepted. And the part that stuck out is 'no matter how poor it may be.' No matter how poor someone's ideal of where they can thrive creatively or individually, it's important to acknowledge that it could come off looking really poor or superficial. A blonde with big breasts and a fancy car 行 there should be as much credibility in that as the hermit in Big Sur who's got stacks of books on the floor. It's all about the what/why. This fictitious woman has created a safe place to be herself that she couldn't find in what she considers a mainstream society. Who knows what her story is? It's just recognizing where those connections are made in that success. It can be sad, depressing, violent or beautiful."
行 Aaron Hemphill
That Los Angeles is a coldly confusing place, an alienating, essentially inexplicable tangle of...well [exhales wearily], we all know these things. Apparently, however, L.A., relatively free from the oppression of archetype, is a good place to dream. It is seemingly as good a place as any for Liars to get real lost...


The confounding Liars are a band of sorts comprising three people: Australian-born Angus Andrew and L.A. boys Aaron Hemphill and Julian Gross; between them they sing and play guitars, drums and various electronic instruments and devices. The L.A.-based trio met while studying art, film, music and such at Calarts, and between stints living in New York and Berlin have released several albums of breathtakingly avant-garde yet arcanely rock-aligned music characterized by repeated stylistic turnabouts and sudden darts into the unknown sonic fray.


<![if !vml]>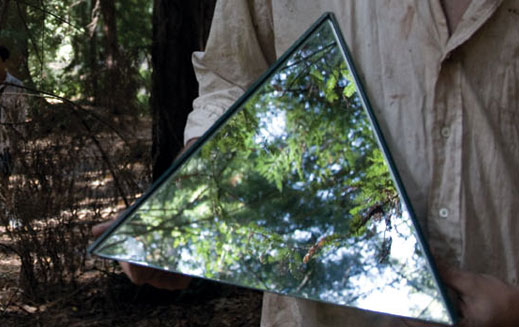 <![endif]>
"I'm comfortable with where we're normally at, which is, like, no clue as to what the next record would be. Maybe it would be Balinese gamelan. It's that opportunity."

"Angus is trying to stay away from the C word. That's a problem we have: Concept. No matter what we do, everything becomes a 'concept album.'"


The band's new Sisterworld is not a concept album as such, though the trio's experiences in Los Angeles figured heavily in the music's genesis. Bearing titles like "Scarecrows on a Killer Slant," "The Overachievers," "Goodnight Everything" and "I Can Still See an Outside World," the music's got a densely dizzying yet oddly exhilarating dimness; like most of the band's previous works, it was custom-designed to make the listener think somewhat (and stomp a lot, of course), to a sound that is 行 befitting the reality of life, death and resurrection in the City of (Broken) Angels 行 rather bewildering by conscious/unconscious design.


"L.A.'s not so fixed of an identity, it's got so many," says Andrew over scalding coffee at downtown's grimly charming TV Cafe. "But I like that it's confusing. If you're thinking about it in terms of a traditional city, with an identity and a center and a piazza where you can all meet up, etc., it's not supposed to work like that. It has to be understood in a different way than almost every other city on Earth."


So, ostensibly an album inspired by the island of lost souls that is Los Angeles, Liars' Sisterworld is a Mayan maze of sonic and lyrical ambiguity that pummels and cajoles then fleets between shadows, emerges holding the dusty jewel that had rotated mysteriously at the end of a creepy dank hallway...now an orange-gray light streaks through it from the smudgy glass above...


"It's not like we go into a room, the three of us, get a six-pack and talk about our day, we play a couple songs, talk more about politics or some shit. It's silent. It's just us in a room at some odd hour, with the buzzing of the light."


"Keeping things a little bit mysterious is good," says Andrew, "but it depends on what angle you look at it. We've been asked to describe what Sisterworld is, and that's difficult in itself to define. But it's not that foreign when you break it down to the idea of trying to escape. L.A. serves in this like an impetus; when you observe some of the things going on around you here, you might feel the need to retract and find your own place to figure things out."


"In L.A.," says Hemphill, "it's more about your environment 行 how you create a world that travels underneath it. You know, you can exist in it."


"You can think of L.A. as housing the biggest population of rejected people in the world," says Andrew, "because people come here with such a goal to make it, and then there's obviously a massive amount of them that don't. So what do people do when they don't make it in the thing they were attempting to do? How do they find other ways to exist? That's relatable to any sort of society, but it seems like L.A., with these ideas of having no center, is such a good experiment in this sort of modern culture."


As to whether or not Sisterworld looks Top 10-bound is for now entirely moot. Bands that do what they want to do because they believe in it 行 and trust the intelligence of their listeners 行 are the future, and that is the brave new world of Liars.


"It's an attempt at communication," says Gross. "It's not to assume that we know why fans are into our music, what we're known for or that we know what they like. We're not market research, and we're not trying to cater to that. We've got to make us happy or the audience won't be happy, either."

"If our group was an actor or actress auditioning in Hollywood, where would we fit? Would we be a C-list actress? Would we be a celebutante, or a character from Day of the Locust?"