Photo: Jean-Baptiste Mondino
<![if !vml]>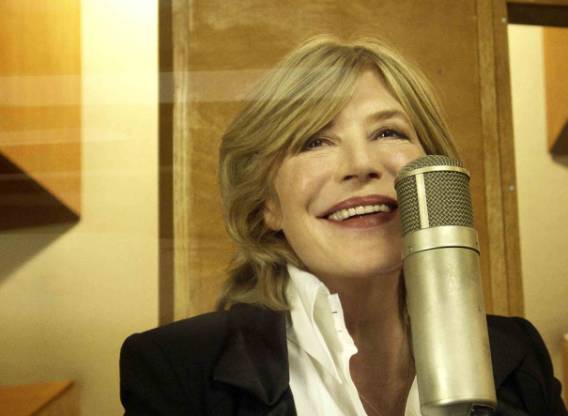 <![endif]>
As for its title, Easy Come Easy Go feels loaded with significance. Shouldn't any reasonable person look in the general direction of Faithfull's past life as Mick Jagger's girlfriend and infamous junkie party girl and etc., etc...?


"Well, it means sex," she says with a hoarse chuckle. "But it has a lot of meanings. I suppose it means I'm easing up, in lots of ways. I'm not angry anymore, I got over a lot. And it's really like that now.


"But the other reason I liked the title was because it does mean money. And I thought it was a good title for this time."


Faithfull had no concept in mind when she began this project, other than to find the very best songs to sing. She figured that with Willner's help, it would, as always, work out for the best, or at least be an adventure. "We took enormous risk," she says, "and we worked without a net. Hal came over in October 2007; I'd already chosen some songs. I'd found 'Down From Dover,' 'Sing Me Back Home,' songs that I'd always wanted to do, and 'Black Coffee.' And I wanted to do 'Ooo Baby Baby' very much. So I told Hal about it, and then he had lots of other songs."


Armed with their list of favored tunes, the pair commenced the recording process.


"It helps me to do a lot of preproduction," she says, "so I really worked on the songs and the text, and then I went to New York in December, just in the days leading up to Christmas, and we worked very fast."


They had to work fast, because of the upcoming holiday, sure, but mainly because of budget. They simply couldn't afford an extended stay in the recording studio. "I'd never done anything like that before," Faithfull says. "I'm not sure I want to do it again." She laughs. "There was no time to mix tracks down, even just rough mixes, so I couldn't take any that I'd done that day and listen to it by myself, which was hard, actually. I really didn't know what I was doing; I was jumping into space."


That sort of half-confident, half-shaky nature is something to admire in Faithfull, whose intriguing sound she injects into these new songs, adding to their depth and variation. She does a touchingly unaffected version of Dolly Parton's "Down From Dover" to start the album, followed by a supertuff take on Neko Case's "Hold On Hold On," which then cedes to the ghostly strains of Duke Ellington/Billie Holiday's "Solitude," nearly overwhelming in its odd mix of tension and quietude. Espers' "Children of Stone," a duet with Wainwright, sort of peels away the rough-hewn layers of the original to reveal a beautiful marvel of simplicity.


Faithfull's meeting with Willner seems fortuitous, for the way her sandpaper vocal cords and complex delivery match so resonantly with his unusual arrangement ideas.


"We'd both been wanting to do another studio record like this, but I didn't want to do it so near to [their last collaboration] Strange Weather. I wanted a lot of time to go by, because I really don't want it to be compared to that album. It's very, very different лл though, of course, I have this tendency to sing beautiful tragic songs. I can't help that."


This time, Willner and Faithfull worked as an ongoing gambit the idea of bringing out unexpected nuances in familiar songs by pairing her voice with those of several singers known as much for their quirky personas as for their vocal styles. A cover of the Decemberists' "The Crane Wife" features a black-humored yet touchingly sincere Nick Cave; a brave stab at Smokey Robinson's "Ooo Baby Baby" features the amazing Antony Hegarty, whose acrobatic vocalese work on this track sounds like, well, like he really likes a challenge.


The highlight on this consistently revelatory record just might be Faithfull's duet on Merle Haggard's "Sing Me Back Home" with longtime friend Keith Richards. While they didn't work together in the studio, the experience for her was rich. "It was just fantastic. It was so...like time stopped. You know, I learnt 'Sing Me Back Home' when Keith used to sing it with Gram Parsons in the '60s. And then Keith recorded it on a bootleg album from Toronto called Unknown Dreams, and he did it on his own, on piano. My manager talked to his manager, and asked her to ask Keith, and I got this wonderful fax from him saying, 'I'll do it for you, baby, if you do it for me.'"


Channeled through the grain of Faithfull's 62-year-old one-note-and-you-recognize-it voice, Easy Come Easy Go's selection of pop standards new and old seem, not so strangely, destined to have been interpreted by this uniquely qualified singer. It's a cracking-fragile but toughened sound that fits the material to perfection, as when she works with the Brecht-Weill songbook, a fascination she's had since she performed Weill's "The Ballad of a Soldier's Wife" on Willner's Lost in the Stars album. Faithfull is currently preparing for European performances of Weill's Seven Deadly Sins with Dennis Russell Davies.


That's a change of gears that requires a bit of thought and practice on her part. "Because it's a classical piece, I have to really work out my breathing and make sure I don't run out of breath," she says.


Meanwhile, it must be incredibly satisfying for Faithfull to keep accomplishing such high-quality projects as Easy Come Easy Go.


"Yeah, it really is," she says, "and it's doing a lot for my self-esteem, which is always a little bit shaky. I can't help it, you know. I wouldn't be human if I wasn't pleased that people really like it. I need to hear it, because I'm always expecting somebody to say, 'Who do you think you're fucking kidding?'"


Faithfull roars with laughter. "Nobody has."